Food Photography Tips for Facebook
Social media is a great place to market pretty much any business, but it is specifically very well suited to marketing local businesses and even more so if that local business is food based. Simply because most purchasing decisions these days are influenced by what your friends and family recommend, and the Facebook platform makes sharing those kind of recommendations an absolute breeze
But it isn't just about posting anything on Facebook, as people are inundated with images all the time on the platform, you need something high quality that will catch the eye. Photos tend to attract followers easier than any other type of content. If you are promoting your restaurant, catering services, or any other food-related business, your food pictures must be top-notch. Does it mean that you must only use a high-quality DSRL camera to shoot the pics? Not necessarily, especially in this day and age of high quality cameras on phones.
Typically, it is all about applying a few tips and tricks to make the food photos really pop for your Facebook readers. With that in mind, here are some food photography tips to help you appeal to your Facebook followers.
• Keep the environment tidy
Yeah, you might think this is an obvious thing to remember but time and time again the internet has shown us that people will notice things in your photos that you will miss. Accidental nudity in ebay listings is a prime example. But in this case a dirty spoon or the mess of some of the ingredients hanging all around the kitchen is all it can take to ruin a perfect shot. Check the background in every instance, it will do wonders for the end result.
A tidy environment and soft light shows this cake to good effect. With permission from Canvas Factory
• Opt for natural light, rather than a flash
Even though lighting is important in food photography, you will have to be extra careful when applying light to your photo. Natural light will deliver well-balanced and appealing images. Instead of turning on the flash on the camera, opt to use natural light to brighten your photos. Ideally, you can place the food near a window. However, don't allow direct light to the food, even if it is natural. Rather, use a white curtain to diffuse the light around the food.
Natural light makes these berries look delicious. Image with thanks to Pixabay
• Get Up Close
Taking close-up shots helps to bring the mouth watering food near enough to the viewer. You want your Facebook followers to view extreme detail in the images without having to zoom in. When you take close-up photos, you will also give the followers the finer details of the food, which is what they want to see. If you have a high-quality lens, you can zoom appropriately. However, if you don't have one, simply move closer to the plate and take your shots.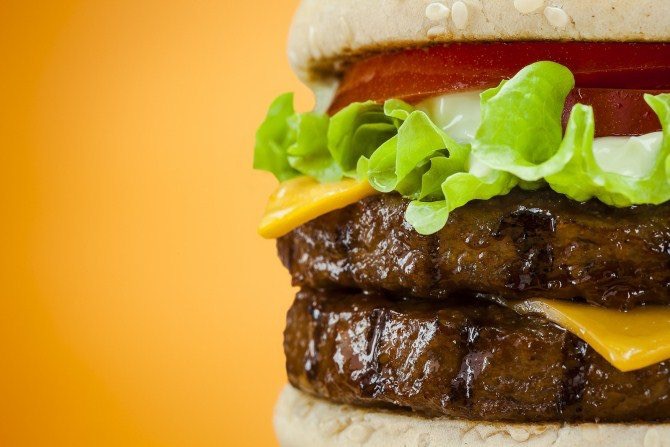 Image with thanks to Pixabay
• Don't forget to change angles
A lot of people make the mistake of taking their plates of food from only one angle. If you're only posting one image then it's not that much of an issue, but the problem is that you may be leaving out some appealing aspect of the food as you choose which shot to post. Some foods will need a view from different angles to give the viewer the most appealing image. So, take shots from different angles whenever necessary.
Something to remember: When taking the shots from different angles, do not move, but simply move the plate around.
Different angles can help make a great shot really pop. Image with thanks to Pinterest.
• Avoid using your free hands
What does this mean? A lot of people do their food photography with their free hands, in that, they don't use a stand. While you might be used to it, it may give you some partially blurred images. So to avoid this, try using a tripod to make the final images clear and proportional.
• Include a captivating caption
Yes, the photo might be striking, but keep in mind that you need to speak to your Facebook audience. It isn't just about uploading images of your deliciously-cooked meal, but you want to engage with your followers too. For that, you will need to add an appealing caption that will make them want to comment, share, or engage in any other way.
• Post your images at the right time
You may take incredible photos, but you could be posting them at the wrong time. Probably you are posting when the followers are from eating, and they are stuffed already. At this time, it might not be easy to lure them to contact you for more info. Ideally, post the food images when the followers are most likely to have a meal. Typically, post them before lunch or dinner.
Above all, avoid using the auto functions on the camera when taking food photos for posting on Facebook. Food photography works well with manual settings. You can also add some few items in the background. Something that goes well with the food you have prepared. Like a bottle of wine or any other appropriate drink. Just remember to keep the photos simple.