MEDITERRANEAN STYLE FOR YOUR COMPOSITE DECKING
So, you're treating yourself to that new composite decking that you'd always promised yourself. It's classy, it's low maintenance and it looks fantastic just as it is, but you've always had a bit of a thing for the Mediterranean lifestyle… This is the blog post you've been looking for! These great tips will help you to make the most out of your decking and take it to the next level Med style. With your bowl of olives and your glass of vino you'll soon feel like you're on holiday just by stepping into the garden.
First Things First
One of the great things about composite decking is the range of colours that are available to you. To get a Mediterranean look you'll probably want to go for a lighter shade. The Med is famous for its suntrap like ambience and this feel can be achieved by having a strong, light base from which to build the rest of your look. The idea is that the sun will reflect off the deck and highlight the other features that you incorporate. Another option would be something a bit darker, perhaps a Cedar like colour. If this is the route that you want to go then beds of decorative bright white gravel around the edges would really bring it into contrast and look great!
Furniture
The furniture you choose to use on your decking will be crucial to its overall feel. Rattan type garden furniture is ideal for this sort of look. The shapes of these pieces are generally quite blocky which is what you want. They are available in different colours but you'll be wanting something on the darker end of the spectrum. To further accentuate the contrast with your light-coloured decking, use pale colours for the cushions. The effect of this light-dark-light combination is striking and will always look tasteful. A regular shaped table will heighten the cohesion and is very in keeping with the Med vibe.
Plants and Foliage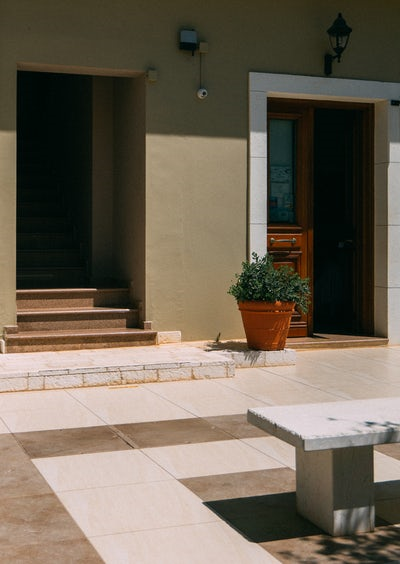 Olive Tree
What's more Mediterranean than olives? Olive trees are definitely something to consider when styling your composite decking. They are a hardy and evergreen type of tree that will do fantastically well in a large pot or container. A couple of these either side of the entrance/exits of your decking is a brilliant way to add a touch of the Mediterranean to your garden.
Bay Leaf Tree
Another tree that is well suited to container growing and so would look really good on your decking. The Bay Leaf tree is thick growing and darkly coloured and is ideal for topiary shaping. The leaves are very fragrant and can infuse your garden with a lovely aroma. A run of these alternating with the Olive trees would look beautiful.
Cypress Tree
These magnificent trees go hand in hand with images of Italian vineyards and would make a fine addition to any garden. Use them in beds close by to your decking to fully enjoy their slimline elegance.
Pots and Containers
Terracotta pots and containers will help you achieve the look that you want. They come in a vast range of shapes and sizes and can offer a really strong focal point. They would look great with Olive or Bay Leaf trees settled inside. By adding a glazed saucer underneath the pots you will ensure that your trees and plants retain enough moisture.
Raised Beds
Raised beds positioned at the corners of your decking will enhance the Med feel of your garden, especially if they are dressed with white gravel. These beds provide areas of good drainage which are conditions that Mediterranean type plants love.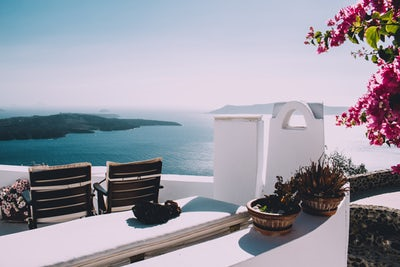 If you're going to style your decking and garden in this way the sky really is the limit. There are so many possibilities and nice touches that you can add as you go. Think of it as an evolving project and one which is as enjoyable to do as it is to marvel at the results.